Moscow.18 January.
FINMARKET.RU - The Russian government will not take any decision to participate in the increase of IMF resources to the presidential election, said in an interview with Bloomberg First Deputy Prime Minister Igor Shuvalov.
Earlier today, citing the unnamed source "familiar with the negotiations", spread information about what the IMF is proposing to increase its resources to $ 500 billion (more than double).
Anonymous source Bloomberg argues that the IMF expects China, Brazil, Russia, India, Japan, and countries that are major exporters of oil.
IMF money is needed to improve the capacity of the fund for the protection of the global economy.
"Staff members estimated that the worldwide demand for financing in the coming years will be approximately at the level of $ 1 trillion. In this connection, the fund plans to increase its resources to $ 500 billion This amount includes voiced recently promises of European countries provide approximately $ 200 billion to increase Resources Fund, "- said in a statement today, the IMF.
On the eve of the IMF is exploring ways to increase the resources fund, which now amount equal to $ 385 billion, said its head, and Christine Lagarde.
Management of the fund hopes that an agreement to increase IMF credit resources will be achieved at a meeting of finance ministers and central bankers standard G20, which will be held on February 25-26 in Mexico City. United States already refrains from making additional funds in the fund besides those already given.
Business as usual, Europe and US provide what they do best- paper, but asking all other for the real thing.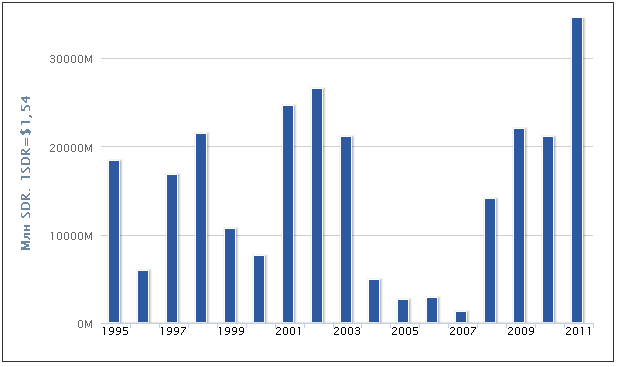 IMF annual distribution to all countries.
2011 became a record