On Sunday, in the Bay of Gaza rocket, which was launched by armed wing of the Islamist movement Hamas, the Israeli Navy ship struck, the Iranian satellite channel "Al-Alam". According to the channel, the water area of ​​the bay was also shot down the helicopter. Israeli military command of this information has not been confirmed.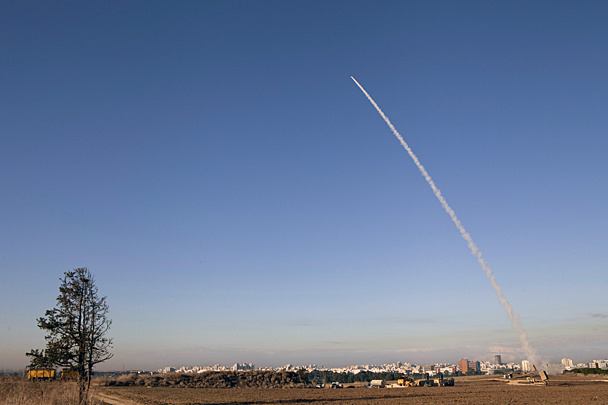 Meanwhile, during an Israeli raid on a quarter-Nasr Hai killed a family of 11 people, including five children. Only in the evening, 29 Palestinians were killed. Three children have been victims of point missile strikes on Al Breydzhu and Beit Hanoun. Three others died in hospital from his injuries, according to medical sources.
Missiles fired 'Brigades İzzeddin al-Qassam "(the armed wing of Hamas), flew in Sunday evening to Ashkelon and Ashdod. No casualties or damage in these southern Israeli towns to report. In Beer Sheva, an Israeli was killed and another was wounded in Shaar Hnegeve.
In the evening of November 13, Israel went on the attack and destroy the head of the military wing of the Palestinian movement Hamas, Ahmed Jabari. According to the military, he was directly responsible for the attacks and the operations of Hamas against Israeli civilians.
On Saturday night it was reported that as a result of the Israeli Air Force attacks originating in the Palestinian refugee camps Megazi in central Gaza Strip, has eliminated a senior commander of the military wing of Hamas, Ahmed Abu Jalal.