The craze of impending Armageddon continues. German police neither denies or confirms that a powerful bomb on the main railway station did go off, because of the defect in design.
The bomb was discovered passed Monday, and reportedly was big enough to cause same damage as in Madrid, where, in March 2004, the series of explosions on trains killed almost 200 people, more than two thousand were injured.
All are at the train station in Bonn were evacuated after a passenger noticed a bag on the platform with wires sticking out of it. Sappers shot bag from a water cannon, but the bomb did not explode. Police are looking for two suspects who were videotaped surveillance cameras.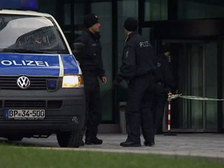 The report was aired by BBC, probably still bitter for the Nazi bombing in WWII, and dubbed by the Russian news agency Itar-Tass.
Translated from: http://www.vesti.ru/doc.html?id=984427&cid=9.